BARTENDER HEATS UP YOUR NEXT NIGHT OUT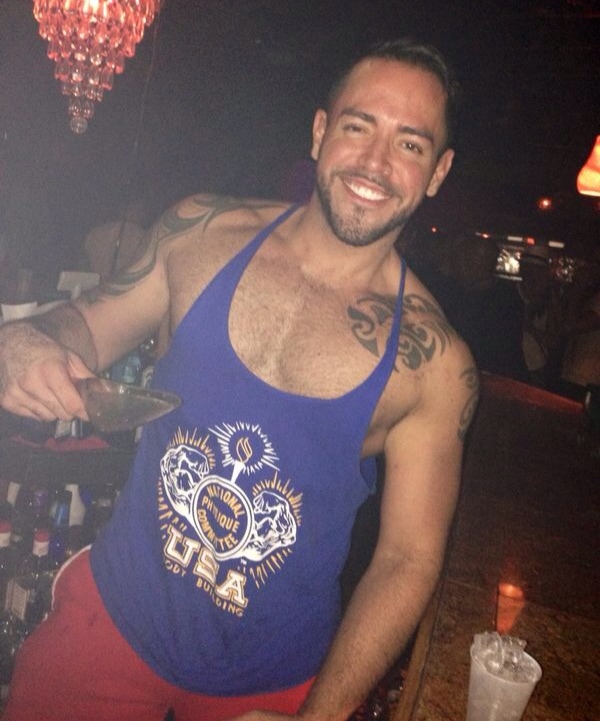 A MOMENT IN THE NIGHTLIFE
Courtesy of Diego Guevara
A MOMENT IN THE NIGHTLIFE
DIEGO GUEVARA
In the city that never sleeps, the nightlife thrives and is hungry for passionate partygoers who want the best time, experience phenomenal service, and make memories they can never forget. At the center of the world — the one and only New York City — one particular bartender stands out achieving the dreams of a better life. Diego Guevara, originally from Colombia, pursued his passions of audio by attended the — now-closed — Institute Of Audio Research. To make a living, he took advantage of his night-owl personality in the world of entertainment. He hustles and enjoys the connections of genuine human interactions from locals to individuals who walk in from all over the world. We had the pleasure to catch him between his reps at the gym and talk about a moment in his life.
- Amy Franklin
Thank you for having our interview. Could you tell us what has your experience been working for the various nightlife spots?
The experience has been fascinating, I was very shy at first but you can't be in this industry. I try never to be rude to people especially when they hit on you and you're not reciprocating, I just never want someone to feel bad, that's who I am.
I've worked at many spots but have had some for years and still going strong. I love the family atmosphere with my two main jobs of Club Feathers and GYM SportsBar, they are literally family and watch out for you and take care of each other.
"Never loose yourself or let the attention get to you."

- Diego Guevara
Where did the desire to work in the nightlife industry stem from?
It started as a part time when I was 23 and went from barback to eventually bartender. I've been in the industry since 2006. I wasn't planning on doing this or for this long but with the economy crash in 2008 and so on I had to.
What process and techniques to stay in shape for your job?
Oh I'm a gym nut I try to go 4-5 times a week, some jobs have tried to make you feel like if you're not "hot" people won't come to you but that's not true. I work out for me not to look good behind the bar and I make more money for the register and for myself than some of the shirtless or "hot" bartenders. Its about personality and making the customer happy and want to come back, not a six pack. No one says "oh wow that's a hot bartender I have to come here", no one cares lol.
What do you personally take out of working late nights and what impact does it have on you?
I'm NOT a morning person never was so the schedule works for me in that sense BUT it takes its toll on you going to sleep so late. Plus all my friends work 9AM-5PM I work 9PM-5AM so it's hard to coordinate get togethers and when they are available I'm sleeping or tired.
Any secret tips you could give to us that we all can benefit from?
Listen to your bartender, when he offers you water or juice don't look at us like we ran over your puppy lol. Its for your own good, we don't want someone stumbling, falling and/or hurting themselves because they had too much to drink.
"She took a chance to give me a better life, she did it for me."

- Diego Guevara
Did you receive any education?
In regards to school, some college and I graduated from the Institute of Audio Research in 2012. As for education in the nightlife, I did do a course on proper pouring and how to handle and record situations that may arise due to over drinking.
What advice would you give aspiring individuals who want to work in the nightlife industry and achieving their dreams?
It's not for everyone, looks aren't all, you must have a passion for being around people but never loose yourself or let the attention get to you. I did that when I was younger and it severely hurt the relationship I was in because I was too young to handle certain aspects.
Who inspires you?
My mother, at age 37, left Colombia with just me at three and a half years of age for a better life. She crossed through Mexico at a time when people were being killed and robbed and she took a chance to give me a better life. She didn't speak (and still doesn't) a word of English but that didn't matter, she did it for me.
Besides your nightlife career, what some interesting facts, hobbies, and desires about yourself?
I'm very down to earth and low key, I know everyone basically in the nightlife but no one knows me ME, I'm very to myself outside of work. After a night of seeing hundreds of people I just wanna go home and relax alone (sometimes alone lol)
Anyone you would like to thank?
Of course, Feathers Nightclub in River Edge NJ, they have been going strong for 40 years, I started there and I am still there almost 13 years
And of Course GYM Sportsbar NYC established in 2005, they took me in almost 5 years ago and I wouldn't be where I am today if it wasn't for them as well. They are the true sense of family and I am forever grateful for them and to still be there and still going strong.